About Us
Welcome to Cry Baby Ranch! Founded in 1989 on a whim and with the hope that the store would last through the holiday season (we rented a seasonal space). Cry Baby Ranch has grown and morphed into a Western meets anything colorful and cool extravaganza! The first few years were focused on Vintage Western pieces and now continues to maintain Western style from decades past. Although the owner of the store, Roxanne Thurman, is from Texas and takes much of her inspiration from her home state, Denver has been the perfect location. The store is located in the historic downtown shopping district known as Larimer Square
.
Roxanne has taken great pride to create an experience you are sure to enjoy. Since those humble beginnings in the late eighties, Cry Baby Ranch has been a staple of the many interesting and eclectic stores found in the Larimer Square area. In 2006 we moved to a much larger space, and were honored by the Mayor's 2006 Design Award winner for reclaimed splendor."With a little creativity you have turned your property into a unique space that reinforces a culture that values good design." – John W. Hickenlooper Mayor (Now Governor), Denver, CO.
Roxanne, along with her web partner, Michelle Zehnle, launched Cry Baby Ranch on-line in 2000. The web store contains most of the groovy and interesting products you'll find in the store.
So if you enjoy shopping on-line we encourage you to explore the many products available through the web store.
If you're in Denver anytime soon, stop by and see us. Bring the entire family, there's something for everyone at Cry Baby Ranch!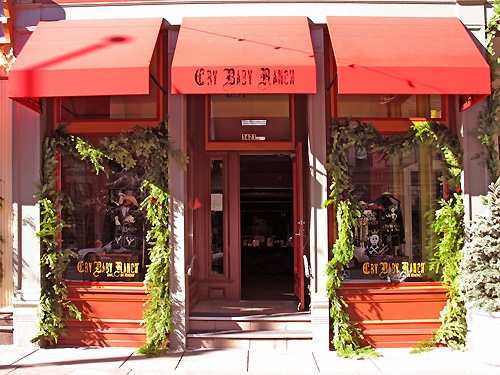 Phone: 888-CryBaby (279-2229) or in Colorado 303-623-3979
Mailing address: 1419 Larimer St. Denver, CO 80202
Email: crybabyranch@gmail.com
Business Hours (mountain standard time):
Monday - Friday:10-7 Saturday 10-6 Sunday:12-5